As a competitive ultra-runner that has been in the sport for 9 years, marathoning is not something I do much of. In 2019, I ran the NYC marathon as my first World Major Marathon and the experience was incredible. I ran well as I pushed my limits of racing 76 miles split between the USATF 50 mile road championships just 6 days before NYC. The result was a 6:07 50 mile and a 2:37:13 for NYC's 26.2. It was a solid double. Now with living in New England, it made sense to go and run Boston. So as October was drawing closer, I needed to find a marathon that would allow me that chance to net a qualifying time for Boston. I settled on the Maine Marathon.
For the Maine Marathon, I was able to get into the race as an elite–meaning a free race entry which was awesome and now being a resident of New England (living in Rhode Island), this was the perfect event to run and get a last-minute Boston Marathon qualifier for the 2022 race.
I have had a tough go with injury on my right ankle after a really bad partial tear in April and not feeling the same over the course of the Summer. I have battled the injury and gotten stronger but it is still not 100%.
The Maine Marathon is a tough marathon course with rolling hills and a gradual climb from mile 10 up to the 13.1 mark. I have done well with strength courses like this and was hoping that if the day allowed it, I could have a shot at going under 2:30.
The Maine Marathon course starts down by the ball park and works its way out along the neighborhoods and coast to Yarmouth. The course is a really nice scenic run and totally worth doing.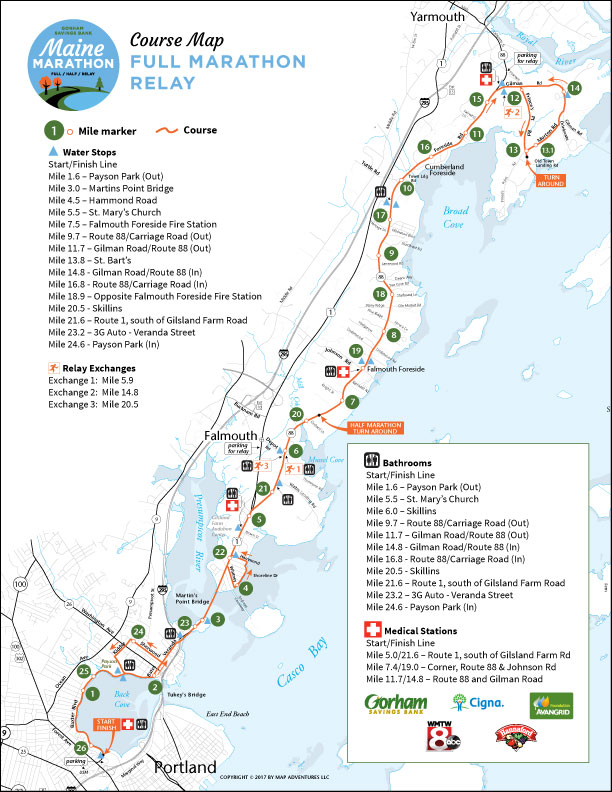 The day before the race, my wife and myself got settled into our little hotel as these hotel prices these days have been wild and I picked a place about 30 minutes away from Portland. We arrived for packet pick-up and stopped at a local brewery for some grub and good drinks. Portland is a really cool city and definitely a place worth checking out here in New England. We had the chance to check out some vintage antique shops that were really cool. As the hotel filled-up with people, it was cozy but the pillows gave my neck a nice workout. It was not the most ideal sleeping conditions but it would do.
The Race:
The morning came and off we headed to the race. After our 30 minute drive, we parked at one of the further lots which was a brilliant idea and walked over to the start. It was amazing being a part of such an event with so many people. I had not been a part of a running event with so many people since 2019 before the pandemic started. There was a lot of nervous energy in the air and the weather was perfect for a marathon with the morning temp in the 50's warming up to the 60's. It was overcast and there was a chance of rain.
Little did I know that the rain in the forecast would be my arch nemesis.
As we lined up to start, I was relaxed and ready to go. I mean, a marathon has become more of a shorter effort for me these days.
I set out with the main group as the pace was hot to start.
I split some fast first 3 miles in the 5:31 mile range. I felt relaxed but as mile 4 hit and we started to go uphill a little, I had difficulty getting enough air down and started sucking for air.
I entered a true sufferfest for me. As the rain started to come down, my sinuses closed up on me as I do get a slight allergic reaction to mold caused by fresh rain. I have never felt like complete garbage so early on in a marathon. Usually it is by mile 15 that things get tough. I continued to push along the hilly roads of Falmouth. My pace was hovering around 6 minute mile pace which felt like 5:30 mile effort. Something was off. The story was I struggled with getting enough air in for those next 22 miles. I could only go one pace and it was much slower than I would like to go and that my fitness could show. The people cheering out on the course was amazing and it was funny as I asked many of them if they had claritin and joked with them that I was hurting so bad but that I appreciated their support. Maine is a cool place and the running community around this race was awesome. Little did I know that this course was primarily rolling uphills from mile 4 to the 13.1 turn-around then you have a net downhill on the way back.
The course takes you through some wonderful New England roads that was incredibly peaceful and nice. I hit the half-way mark around 76 minutes which was a solid pace for a 2:32 finish time but I was slowing badly. I was so frustrated with how I could not move. It felt like running in quicksand. I was passed by two guys towards the last 3 miles and eventually was passed by the Women's winner a half mile from the finish. I had nothing left to give.
I crossed the line in 2:39:54. A Boston Qualifier, but my slowest official marathon finish ever, when not running in a Toga. I came to the race to get a Boston Qualifier and achieved that mission even if my finish time was far from where I wanted to be. I was proud of not giving up and holding on just about the whole race–22 miles worth of deep oxygen-deprived pain to finish. This year for me has been a challenging year for racing but I am proud of my ability to push through being in the "hurt locker" for the majority of the time.
The lesson here is do not give up if things just feel harder. This race sucked. I was hurting so bad. I knew I needed to finish and tried to take in the gels and nutrition hoping this would turn things around but nothing could improve my situation. I bathed in that knowing I had to just keep moving along. This was by far my grittiest marathon finish ever and for that, I am proud.
This is a great race and one to do. Is it a PR course, No, but I do think if you are looking for a destination marathon, the Maine Marathon is a great choice! Some post-race beer and seafood (lobster rolls) are always a great consolation.
My Boston 2022 application is in and I hope that all goes well in being selected!